I might have mentioned this earlier, but I hate pants. I've worn them maybe three times so far this year. I don't like how they fit my short, curvy frame, and I don't like how restricted they feel. So dresses it is.
Well, tonight I am going to my VERY FIRST hockey game. Kat and Rose have been promising to take me for like two years, and now I finally get to go! And yet I have nothing to wear. I don't have a dress that I feel is just right, and I definitely don't have a tee and jeans I can just toss on.
Luckily, the last time I was at my parents' house I picked up about a dozen or so of my unfinished projects. One of them includes two yards' worth of a yellow ribbed knit that I bought from Walmart's dollar-a-yard table.
I texted Kat to ask her if yellow was a Preds' color. She responded by saying "Yes...you're making a dress, aren't you?"
What can I say? My best friend knows me well.
I originally planned to use New Look 6722 for it, but I wasn't sure.
I wasted a heck of a lot of time looking at other potential dresses, and whadaya know? This dress from Modcloth (it's not available now; I had saved the image) caught my eye.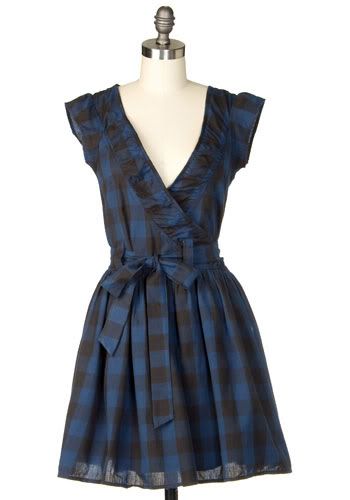 So it looks like...if all goes as planned before 5:30pm when I have to leave for Kat's apartment, I'll be rocking a little yellow wrap dress for my first Preds game!