I am a shoe fiend.
P teases me often about my propensity for buying shoes. It's only exacerbated by the fact that I'm small enough to wear shoes from the children's department in Target, and they're cheaper, and so I justify my purchases by whining "But they were cheeeeaaaap."
But since that whole we-need-to-be-able-to-afford-rent thing is kind of sort of I don't know
important
, I haven't gotten any new shoes in a while.
However, unlike my cousin who got married barefoot, I want shoes for my wedding.
(Let me clarify a bit. Barefoot brides=awesome, but she got married indoors. In a church. In Pennsylvania. In winter. Wasn't she cold?)
So I made out a list of qualities that I wanted in my Dream Shoe.
-blue
-a decent heel
-an ankle strap
-a bow
Doesn't sound like too much, right?
But, oh yeah, I didn't want to spend too much.
Zappos, Piperlime, DSW, Baby Girl Boutique, Modcloth, and Ebay yielded nothing. NOTHING. I found some that I half-heartedly liked, but nothing that I really tremdously enjoyed.
But then I found it, like a beacon of light in a thick fog. The Dyeables' Christina!
Ankle strap. Three-inch (sturdy) heel. Bow. Even better: a retro look and a peep-toe!
I shopped around, since most people were selling my beauties for $80-$100, and found them on Ebay for $68 and free shipping. SOLD.
Only one problem: they're not blue. And I haven't found a place in Nashville that will dye shoes.
I hemmed and hawed about it. They need to be dyed, because my dress is ivory, and while I usually don't care about PERFECTLY MATCHING my shades, it's clear that these shoes are WHITE and the dress is NOT.
So I'm taking a page from one of my favorite heroines.
"Why, she wanted a pair of blue boots for Sallie's party, so she just painted her soiled white ones the loveliest shade of sky blue you ever saw, and they looked exactly like satin," added Jo, with an air of pride in her sister's accomplishments that exasperated Amy till she felt that it would be a relief to throw her cardcase at her.
If Amy March can paint her boots sky blue, surely I can paint my wedding shoes!
My painting is usually left to
acrylics on paper
, but last summer one of my coordinators on Sunset Boulevard asked me to paint tiger stripes on his neon orange Chuck Taylors. He gave me a bottle of Jaquard Textiles fabric dye, I spent a couple of days painting the stripes freehand, and bah-BAM. They turned out great, he loved them, and so far there's no sign of warping, streaking, or fading.
My Christinas came with a piece of test satin, so I pulled out the leftover bottle of dye and gave it a whirl.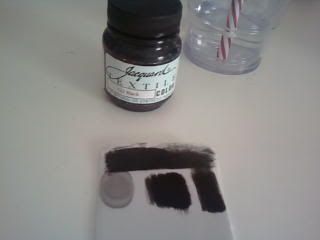 The swatch on the top was the first part I did. See how sketchy it looks? It dried thick and cracked, and warped the edge of the sample. I realized I was painting against the grain. So I tried again.
The swatch on the right was painted with the grain. It didn't warp as much, but it still didn't cover as well as I liked.
The bottle says you can dilute the dye, so I added just a drop or two of water. The result? Perfection. That's the swatch in the middle. It dried smoothly, without streaking, and it didn't cake the surface or warp the fabric.
The swatch on the left was very diluted. That was more of an experiment than anything else. It made it very light, but the brush strokes and the edges are too distinct. It would be great if I was going for a tie-dyed effect...but alas, I am not.
So my plan is to buy a jar of Jacquard dye in a light blue and dilute it. I can't wait to see how my kick-awesome shoes turn out!