So I have the flu.
I've been feeling sickish since the final weekend of Beau Jest, but it's been hitting me harder and harder. My bestie Kat got the flu...and I think that's what I have.
Ick.
I feel rather dreadful. P came over this morning we would could do some wedding related things, and I was just not feeling great. After he left I climbed into bed, and I've been there ever since.
On the upside, our trip to Michaels went well. I found a lovely collection of silk flowers to use for my bouquet, so expect some mock-up to show up soon!
And even better, we bought two kits' worth of invitations. They've just been put on clearance, so we bought up two kits. We'll need a total of four or five, but my coupons won't be valid until tomorrow at the earliest. And now, prepare yourself for some of the most terrible cell phone pictures taken from a bed EVAR. But I really want to show off my (unassembled) invitations.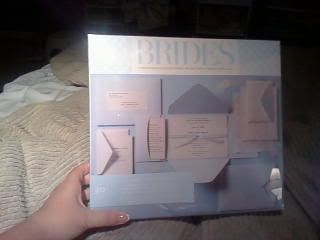 Here's (a terribly shadowed picture of) the invitation kit. It comes with the pocketfolds, invitations cards, response cards and envelopes, precut ribbons, cards for driving instructions, printable address labels, and envelope seals.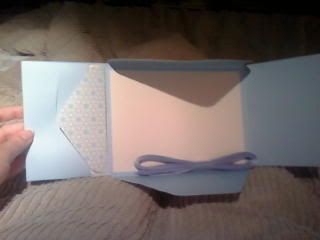 And that's a terrible picture of what they look like in person.
I'm really excited. The blue is just the right shade, and even though it's
technically
supposed to be ivory, in person they look more like a super pale yellow.
This invitation is actually a lot prettier and elaborate than the initial ones we picked out, and I'm actually kind of glad that we had to go with this instead.
We're going to personalize it with really fun fonts. And I'm thinking about getting black and white photo stickers to stick on the right hand inside flap, because it looks slightly naked compared to the rest of the invitation. But I don't know; it'll depend on what a completely assembled invite looks like.
And now it's time for bed, fo' shizzle.