I'm really interested in
Miss Rainbow's wedding
. Like seriously fascinated. I've been planning my retro-inspired Alice in Wonderland wedding for three years now...and she just started planning her retro-inspired Alice in Wonderland wedding! I'm really surprised that someone would hit upon the exact same idea...yet we are completely different.
Her wedding (from the handful of posts she has put up) looks like Art Nouveau. Like this:
And this:
It's very Great Gatsby, very sunny garden party. I'm really excited to see how she incorporates Alice in Wonderland too- and why she chose Alice.
I chose Alice because she's been my favorite Disney character since I was but a wee lassie. My mother used to put the VHS tape in for me on Sunday afternoons when I was a toddler and I would fall asleep, mesmerized by Alice's adventures. When I was seven or eight I read the book, and was fascinated by it. Alice remained one of my all-time favorite literary and Disney characters.
When I was eighteen years old, I had the amazing opportunity to become a Walt Disney World cast member. Even better, I was selected for one of my dream jobs: I was made a Tour Guide on the Great Movie Ride. I spent six wonderful months getting held up by gangsters, running from bandits blowing up banks, driving cranky old trams, and basically having a merry old time in the Happiest Place on Earth.
(that's right, I photobombed Bogart and Bergman!!)
It was during my time on the Disney College Program that I rediscovered my admiration for Alice. I also discovered I was just the right height to play her. I was even extended an offer to play her, but turned it down in order to spend time with my brand new boyfriend, who was back home in good ol' Nashvegas. Although it was a bittersweet decision, it was the best choice I ever made: that boyfriend was Patrick, and he proposed just a year after we started dating.
I knew from the start that Alice in Wonderland was going to make a big impact on our wedding. Originally the colors were going to be pale blue and black- perfect for a classy, glamorous wedding. But the idea evolved...and evolved...and evolved.
The first thing I realized was that while many brides have lovely black-and-bright-color weddings, it didn't suit me. The elegant black slowly faded away to be replaced by sunshiny yellow. Now there were yellow roses (
my grandfather's favorite flower
) and daisies, and the whole mood of the wedding changed from a glamorous event to a hyper-happy party!
Fabric slowly wormed its way in as well. I have an almost unhealthy addiction to cloth. I started adding in two of my favorite fabrics: gingham and eyelet. Now there were bows everywhere (I also have a brilliant love affair with bows, btw) and ribbons and all sorts of charmingly mismatched patterns.
I still felt like something was missing. And then I realized it...the retro element!
I started getting into retro stuff a couple of years ago. I discovered a band called the Pipettes, and FELL IN LOVE WITH THEM. Seriously. Girl crush. Right there.
(They're typically not animated, by the way. They're usually real people.)
Once I started getting into music influenced by the '50s and early '60s, I started falling in love with clothes influenced by the time period. After that, it was only a matter of time.
Granted, the retro flair on the wedding is still subtle, but it's there. It's mostly in, well, the music and clothes. But it's a special touch that I'm simply in love with. It also tied it in surprisingly well with Alice in Wonderland. You see, Disneyland opened in 1955, and when it opened, women wore their pretty full-skirted frocks and pearls and gloves and heels (which sunk into the still-soft asphalt on opening day!). I really want to evoke that feeling.
(and no, I have no earthly clue why there's a can of black beans on the railing...)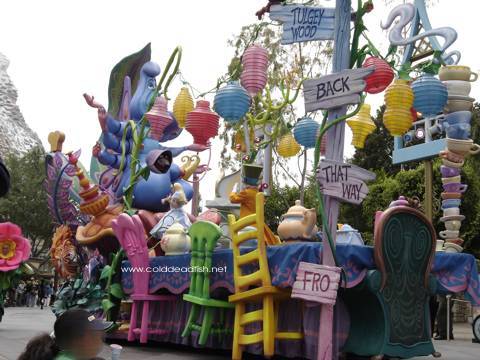 I still felt like something was missing, something that would finalize the vision that I had, the whimsical party I wanted to throw to celebrate FINALLY marrying the guy I've totally been in love with for the past three and a half years. And on Christmas, I found it in the form of a present. It was a storybook version of Alice illustrated by Mary Blair.
Mary Blair was a prominent Disney concept artist in the '40s and '50s. She was one of the artists Walt sent to South America, she created beautiful work for Song of the South, Alice in Wonderland, Cinderella, and Peter Pan (as well as some early early early images for Little Mermaid and Beauty and the Beast!), and she completely designed the whole look for it's a small world. Her illustrations completely summed up the look and feel I was going for: nostalgic, sweet, full of whimsy, and super playful. Add Alice in Wonderland, the '50s (Alice premiered in 1951), and a blue-and-yellow color scheme, and there you have it!
"But how," you may ask, "IN HOLY BLAZING HECK are you managing to incorporate all of this?"
Well, let me explain.
Wait, there is too much to explain. Let me sum up.
-A color scheme of blue and yellow (Alice's hair color and her dress color)
-The flower girl will be dressed as Alice
-The ringbearer will wear a vest with a pocketwatch (the White Rabbit...but suuuubtllle...)
-Topiary trees by the doors with white roses painted red (get it? Painting the roses red?)
-The flowers are inspired by the Garden of Live Flowers scene in the movie (lots of roses and daisies and bluebells)
-The guestbook is a copy of the aforementioned Alice in Wonderland storybook
-Playing cards as table numbers
-Lots of hanging pomanders and hanging Chinese lanterns (like the Mad Tea Party)
-The centerpieces are mismatched teapots filled with flowers and surrounded by floating candles in mini mason jars
-Instead of a cocktail hour, there's going to be a tea party
-Using a vintage Alice in Wonderland magazine ad from 1951 as the basis for our "hey, the wedding's here!" sign
And a bunch of other stuff that I'm too tired to think about right now...
So why am I babbling about this, you ask? Well, a couple of reasons. A lot of it is because I've explained what I'm going for, and really, telling people about your retro fabric-inspired Alice in Wonderland Disneyland on opening day wedding causes a LOT of raised eyebrows. It's nice to have my whole idea laid out and step back and see what it looks like. (And I'd like to hear what people think of it. Too crazy? Possibly...)
I also really want to be a Bee. (Seriously...someone tell me if I'm allowed to blog about the fact that I'm applying. Is this frowned upon? Or am I allowed to blog out my worrywart-ness? I don't know! So I shall keep writing!) And I don't know if I'm automatically out of the running because my wedding is potentially so similiar to a new Bee. I feel like I have a unique voice and a lot of quirkiness and a great wedding to blog about. Am I still being considered?
I just don't know
.
Oy.
Well, they haven't turned me down quite yet. And if I get rejected again, I'll try one last time. (I mean, if Mrs. Bunny got rejected twice, there's still hope for me!).
Gargh. This is like audition purgatory all over again. Except that instead of a pool of local actresses, I'm against a bajillion awesome brides all over the internetz.
Double gargh!
aaaaaaand rant is done. (And Guys and Dolls rehearsal!). Time for sleep. Tomorrow P and I shall purchase our invitations! That will be an adventure. I shall photograph it and be happy.
(But after sleep. After this SUPER LONG rant, I most def need the sleep.)