While I have several projects going on right now that are nearly done (red corduroy coat, navy Kate Nash dress, plaid open-back dress), everything is going on hold. Why? Because I have ONE WEEK to make a Regency dress.
I've been planning this dress for a while, because this is going to be my prototype for my Giselle dress.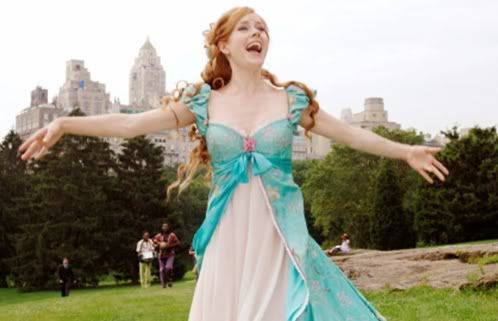 I 've done a lot of dresses with sweetheart necklines (I have been, um, well-blessed), so I was going to do the bodice on my own by building it around a bra. The skirts were confusing me, though. It requires four layers- one pink, two cream, one aqua- but when she stands still, there's very little volume. Yet when she spins, it flares like a mofo. It also, inexplicably, has a train.
I theorized that the skirts were gored (in a pie shape, if you will) and most likely cut on the bias. In order to find the right pattern piece, I purchased Butterick 6630 off of good ol' Ebay.
The skirt is just right, so I'm just going to modify it. But I wanted to do a dry run by sticking exactly to the pattern, because I've never done a skirt quite like this before.
Last week I purchased five or six yards of a nice white muslin (yay for sales!), and the other night I started leisurely cutting out pattern pieces. I figured I have plenty of time. I wanted to wear it for an English novel project (since we're doing it on Emma), but I thought there would be time.
Oh, no. That's due in a
week
. And since I'm dressing up as Jane Austen, and naked is not an option, I have to start and complete this project by Thursday.
Oy.
When I get home from rehearsal, I'm breaking out the scissors. I expect it'll take about two to three hours
just to cut the pattern and the fabric
for this son of a biscuit eater.
Double oy.