After all my bemoaning about skipping a day of blogging, I didn't blog yesterday either! I need to fix this. Now that I have my
wedding-only blog
, I got a little distracted...
I've been sending out a lot of Facebook messages, getting other people on the same page as me when it comes to wedding stuff. Especially the bridesmaids dresses! Naked is not a good option. I'm secretly hoping that all of them will fall in love with this dress as much as I have: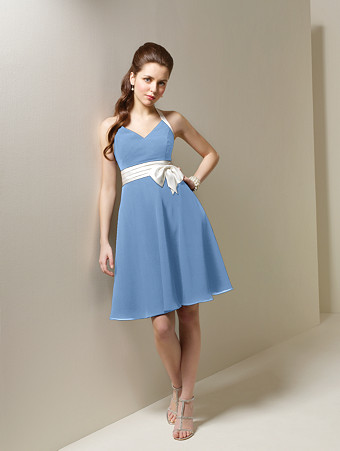 Gah. I love that dress. And it fits the feel of the wedding really really well!
Oh, well. We'll figure something out.
In other dress-related news, I've think I'm going to go with a different dress for the rehearsal and rehearsal dinner. Originally, I picked out this one:
I picked it for the sole reason of the pickups. I thought "Hey, I'm too short for a gown with pickups. I'll just put them on my rehearsal dress!"
Lo and behold, my dress has pickups! And in the meantime, I have a new dress on my "if-I-could-afford-any-wedding-gown-ever" list: Christos's Bella.
Oh mah gah. It's gorgeous. I could eat it.
(Not really. I'm probably allergic.)
I think I'm just going to recreate a shorter version of this dress for the rehearsal, probably by Frankensteining. My sister has this pattern, so I'll use this for the bodice:
Form the looks of it, the dress is simply layered square skirts, to create the handkerchief hems. It'll take a heck of a lot of organza, but it'll be gorgeous! Pair it with pretty ballet flats and a flower in my hair, and I will be a happy camper.
I've also been considering the weather. I mean, March in Nashville can be either gorgeous and sunny, or freezing and gross! I'll need a coat. But not just any coat. This coat has to go over my wedding dress (and probably my rehearsal dress as well). So to cover up, stay warm, and match my theme, I'm going to make this:
"But how does it match the theme?" you ask.
This is from Tim Burton's Alice in Wonderland film, which (coincidentally) is coming out a week before the wedding.
Nerdy, isn't it? But it's a pretty, classy coat, and it's an Alice reference that most people probably won't get. But I will, and I will be happy.
My version will probably fasten with pearl buttons rather than self-fabric, and it'll be shorter, most likely based off of this pattern:
I can manage that, I think.
In real life news...well, life goes on. Guys and Dolls is crawling along at a snail's pace. I'm actually kind of relieved to have a smaller featured part rather than to be an ensemble member. Everyone else has to be at rehearsal every day...but tonight is my first rehearsal for the week! It's nice to have time to work on wedding stuff, rather than killing myself in the theater every night.
Fall break is this weekend. Will I be there? Nope. Rehearsal on Friday, load-in on Saturday. But hopefully on Saturday afternoon, P and I can go see the Toy Story double feature. Because I love those movies, for serious. And I wouldn't feel like a real cast member if I didn't go to see it.