This has been a crazy wonderful weekend! So much has happened...and I haven't had any time to blog! And because there's been so much, I'm going to do several entries today. Just because I can.
The last time I blogged was Friday night, right? Right before the second-to-last show? All right, picking up where I left off.
The Friday night show was AMAZING. We were completely sold out, and the audience loved us. There's four points in the show where I have what I call my "ego laughs": when I enter, when I say "oh" after Bob's story about the Gentile children, my overexaggerated eye roll during the "Monday night, we're watching Conan" bit, and my pause during the "who's your aunt?" "Sylvia Klein" bit. Typically the audience would laugh at a couple of them. On Friday, they laughed at all of them. I was exhilarated. (To use a quote: "my aura has never been pinker!")
On Saturday morning I had to get up early for my 9am dance class. Although it's exhausting, I really enjoy it. I was put in the advanced class, which I originally thought must be some kind of mistake, but Emily, the teacher (who has the world's most delightful British accent) said I belonged in the class, and after Saturday, I think I believe her. We do the greatest routines in the class too- this one was to "Old Time Rock and Roll"; the class before was to "Footloose."
Afterwards P picked me up and we zoomed back to the house so I could get everything ready for the cast party. He set up Rock Band while I made dill dip, lemon pound cake...and lukshen kugel.
I spent a lot of the show discussing how "for a special occasion, I make my special lukshen kugel." I decided to make some myself, just to see what it's like. Well, it's DISGUSTING. One pound of egg noodles, two pounds of cottage cheese, four tablespoons of butter, half a cup of sugar, eight eggs, and a dash of cinnamon. And it's gross. I couldn't even swallow it. I have never been more grateful for lemon cake in my life.
After several hours of eating, Rock Band-ing, and DDR-ing, we headed back to the theater to prepare for the final performance. And that's when something absolutely amazing happened, but it's so amazing that it deserves its own blog entry. And so it shall.
The final show of Beau Jest was fantastic. We finished at 9:30...set strike began at 9:50. By midnight the set was completely disassembled and the theater was spotless! It was really sad to see the "living room" we'd been playing in for the past month completely vanish, but it's necessary.
Needless to say, after such a long weekend (and with a sore throat coming on...), I slept in super late on Sunday. P picked me up afterwards and we had Super Wedding Field Trip Day.
Our big goal was to find a new set of invitations. We started at the Michaels in 100 Oaks, because I was hoping to find those pretty eyelet invitations that I found on the Michaels website. Unfortunately, they were nowhere to be found. We did find a couple of other options, though, so we took pictures with my camera phone to mentally file away.
We also looked at silk flowers. I found some possibilities, but P was decidedly unimpressed. He pointed out that because of recent advances in our budget (which shall be explained in the next blog entry), we might be able to afford real flowers for my bouquet and the boutonnieres. I'm still a little skeptical (you know, that whole allergies thing...), but I have to say that I was rather disappointed in the selection at Michaels.
After Michaels we checked Walmart, just to see if, by some remote chance, they had the eyelet invitations. They did not. I was sad.
(also, their flower selection was even more dismal than the 100 Oaks Michaels.)
Our final stop was JoAnn's, one of my favoritest places in the whole wide world. We looked at the wedding aisle first, where we were once again nonplussed with their invitation selection. We quickly moved on to familiar territory, where I purchased a length of old-gold rose print velvet for my colonial gown for History of Costume class, a cut of white knit with a pretty green floral print, and Vogue 8360. (The pattern's going to be used to make my dress for my lingerie shower.)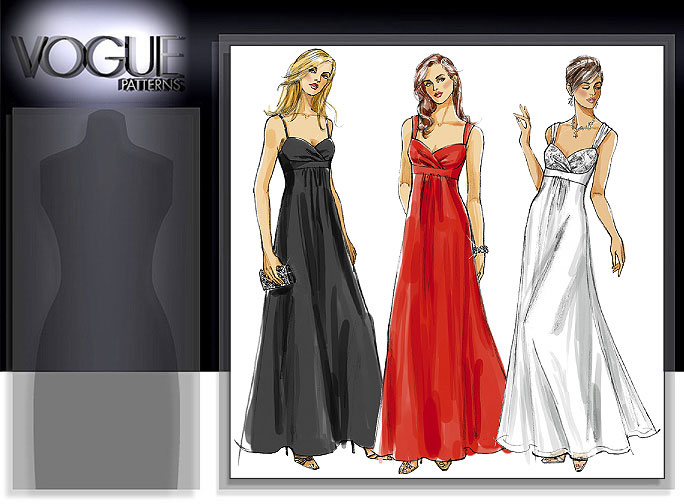 (Isn't it pretty?)
After our Super Wedding Field Trip, P and I discussed wedding things on our way to small group. We decided on a pretty blue invitation kit that we saw at Michaels, but we're going to wait until we get a coupon. But not wait too long...we learned our lesson. We're also still discussing the flower situation. No resolve on that yet...but at least we have invitations!
So that's basically how the final weekend of Beau Jest went down. But I have to tell the SUPER AMAZING STORY that deserves its very own post, just because of its sheer epicness. So...stay tuned.